AQuA Endorsed Member - endorsed for Testing Services
An AQuA Endorsed Member - endorsed for testing services are organisations who provide commercial testing services to the mobile industry, whose services have been validated and endorsed by AQuA. The services could be through automation and testing tools, a traditional manual testing house or other means.
These are amongst the top testing service organizations in the world, who work closely with other AQuA members to mould quality initiatives within the mobile industry. They help fund AQuA because they share our commitment to app quality.
AQuA backs these organizations, promotes them, and endorses their services within and outside of the association.
The current AQuA Members, Endorsed for Testing Services are listed below for your information, and you can find out about becoming an
AQuA Endorsed Member
.
---

CyberSecurity Technology Institute (CSTI) provides technology solutions and services for cyber security and software quality assurance.
CSTI is under the umberella of Taiwan's Institute for Information Industry (III)
The CSTI Testing Lab provides the following services:
Automated Test Platform
We are dedicated to developing an automated test platform, which is based on international testing standards ISO 29119. The platform provides a full test cycle management process and performance test tool. It also provides a virtual test environment.
App and Web Testing Services
We provide third party software testing services, including functional testing, performance testing (load testing/ stress testing) and security testing. These testing services are available for both mobile and web. We use an automated testing tool and manual testing to enhance the efficiency of the test.
Software Security Testing
We provide black box testing that supports website and mobile app vulnerability scanning. In order to carry out security testing, we also developed a technology that can dismantle App's APK and analyze Dalvik VM Assembly Language, and provide CMAS auto testing tool to scan App for security test.
Consultancy services we provice:
Introduce international testing standards ISO29119 and AQuA Testing Criteria
Build a system process specification
Provide consultation service on software testing technology
Provide consultation service on automation testing

Based in China, CTTL SmarterApps is a specialist in app testing and smart device testing belonging to China Acadamy of Institution and Communication technology (CAICT).
Founded in the mid-1950s, CAICT has accumulated a rich experience in communications policies, standards for telecommunication technologies, and product testing and certification, making great contributions to the development of communications industry in China.
CTTL SmarterApps is one of CAICT branches providing 7days 24hours testing service and professional guideline to manufacturers, developers and operators.
CTTL SmarterApps is also a Quality App Directory-approved Test House, which means they will be one of the test houses approved by AQuA to test apps against the Testing Criteria for inclusion within the Quality App Directory.
"Being an AQuA Endorsed Member - endorsed for testing services and a Quality App Directory-approved test house brings us more opportunity in the app world.
We are looking forward to doing more work with AQuA and sharing our professional experience in app testing and smart device testing areas.
Also we'd like to provide our service not only in China but also in Europe and other places in the world."

Edward Kuang, Director, CTTL SmarterApps
Contact CTTL SmarterApps at aqua@smarterapps.cn
www.catr.cn (english.catr.cn)

DMI, the world's first end-to-end mobility company, combines all the skills and services necessary to deliver mobile enterprise solutions. Built to reinvent business through mobility, DMI has expertise in mobile strategy, UX, web, and app development, omni-channel commerce, brand and marketing, big data management and analytics, and secure device and app management. The company delivers mobile apps across all mobile devices and operating systems, with expertise in backend integration (an area becoming increasingly more complex), middleware and content management across industries
AQuA have awarded DMI as an AQuA Endorsed Member - endorsed for App Development and Testing Services we feel they clearly prioritise and maintain high standards of quality throughout the development cycle.
"Quality assurance starts from the first release from development and continues until the very end. We believe that QA for mobile is more critical than anywhere else. Customers simply expect your mobile apps to work." (Magnus Jern, President DMI International)
It is the adherence to this high quality mantra, and the practices in place to ensure it is achieved, that impressed AQuA throughout our assessment of DMI's services and QA practices, and led us to endorse DMI as a Member with Trusted Status.
You can also see DMI apps in the Quality App Directory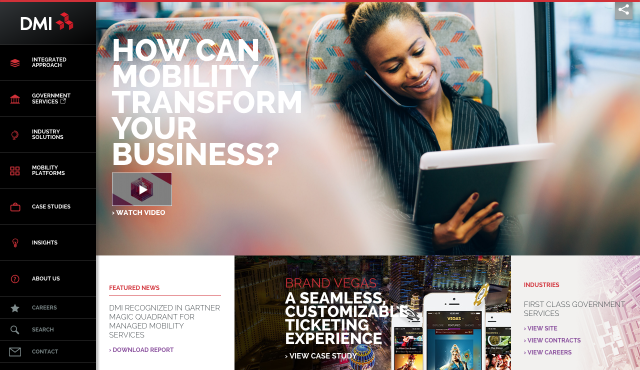 News from DMI
Take a look at recent DMI blogs...
The secret to every app success #1: user testing during the development process
Mobile app testing roles: The QA Super Heroes: A fun and enlightening read

6 steps for Mobile Application Testing – QA

iTech Labs, an AQuA Endorsed Member, is an ISO 17025 Certified Software Testing Laboratory, with its subsidiary iGlobal Labs specialising in software Quality Assurance. Founded in 2004, with over 200 customers worldwide, iTech Labs is highly respected and well known within the industry.
iGlobal Labs provides expert Quality Assurance services for Games, Mobile Apps, Web Applications and Back Office Systems, including multi-lingual testing services.
Our Quality Assurance testing reduces project costs, increases throughput, provides independent testing according to specifications, and ensures on-time delivery. We offer set prices using competitive rates, and have flexible resources in our laboratories, located across multiple time zones.
We test on multiple platforms across varying environments and devices, according to your requirements.
With a wealth of experience in testing, we at iGlobal Labs understand the varied requirements of our global customers, and are committed to delivering an on-time, high quality service at competitive prices.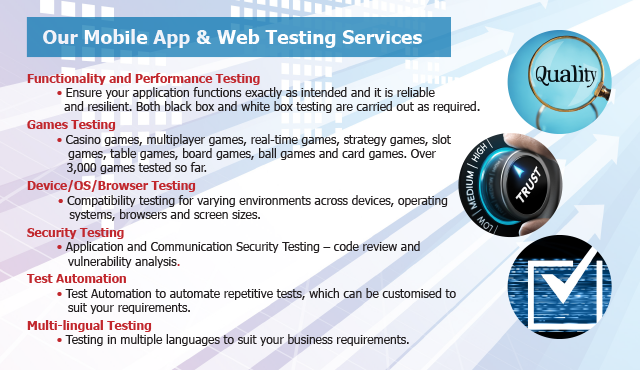 News from iTech

"As an AQUA Endorsed member, VMC's mobile team prides itself on delivering cost-effective, quality solutions every time. With the continuing growth of the mobile device market, having a mobile application has become a competitive necessity. VMC's end-to-end application development, localization, and testing services will enable you to create a bold, unique interface for your business as you extend your presence in the mobile market.
Whether you are interested in mobile app development, enterprise apps, web/mobile web, localization implementation, wearable apps, infrastructure, or design, we have the development expertise you need."
VMC is an AQuA Endorsed Member - endorsed for testing services, and also a Quality App Directory-approved Test House, which means they are one of the test houses approved by AQuA to test apps against the Testing Criteria for inclusion within the Quality App Directory.
"The increasing complexities of the mobile ecosystem have made selecting the right partner essential in ensuring that your application becomes a success. With over 300 unique devices, including duplicate copies of the most popular devices supporting different OS versions, VMC provides maximum flexibility in terms of testing strategies for your application, minimizing risk during deployment. By becoming an endorsed member of AQuA, we believe we will stand apart for our structured approach to testing and emphasis on quality, long-term sustainability, and commercial success."
Jon Atkinson, Director Global Platform Services, VMC