PAST EVENT: An Expert Discussion on App Quality: BBC and AQuA Round Table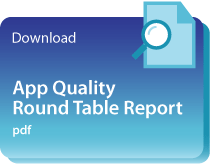 In February 2014 this expert discussion on App Quality took the form of a joint Round Table between AQuA, BBC Future Media (the team involved in the production of mobile apps for the BBC), and a group of like-minded professionals.
Attendees from the world of app development and testing applied, were vetted, and those selected then worked with us to find-tune the areas for discussion.
Debate focused on the fast moving and at times complex area of app quality, with views being freely exchanged, issues debated and best practice shared.
Read the App Quality Round Table Report
Download a PDF of the App Quality Round Table Report
"A truly open forum to discuss common issues with like-minded peers that you don't normally get to share a platform with."
Marc Morrison, Penrillian
"An enjoyable and useful day filled with relevant and open conversations. Our industry progresses most when we collaborate and days like that add oil to the machine."
Charles Harley, Kotikan
"The round table was both insightful and re-assuring in discussing common industry challenges within a safe open environment. Our mobile app industry is relatively young and we will continue to evolve best practice together for the greater benefit."
Michael Cliffe, MX Data
"The BBC & AQuA roundtable session was an excellent opportunity to meet a wide range of people in all areas of the app development ecosystem, willing to share insights across a carefully selected set of topics on app quality. Thanks to AQuA and the BBC for putting the session together. I look forward to the next one."
Breffni Horgan, Webresint
"It's always good when a gathering of minds meets with a single goal in mind, which in this case was to improve the way in which we can develop, test and ensure the quality of mobile applications in the future."
Phil Peacock, Epicentre
"Testing is a necessary and required component of development. AQuA is helping to make testing more effective and efficient."
Juan Reyes, BluFocus
"Thanks to AQuA and BBC Future Media for arranging this event, we all share similar challenges and having the opportunity to brain storm is incredibly valuable for industry progress and efficiency."
Kirstin Whittle, VMC